Soothing jets and style.
• Seating for 6
• 43 jets
• Lounge seat
• Footwell jets
• 7' x 7' x 36"/2.13m x 2.13m x 0.91m
• 335 gallons/1,270 liters
Limelight Features
POWERFUL JETS
Limelight® Collection spas are designed to feel as good as they look. Comfortable seats feature powerful jets that massage from your shoulders to your toes, providing targeted relief to help you feel your best.
THE PERFECT MASSAGE
Limelight® Collection spas feature a variety of jets ranging from targeted Precision jets, to XL combination jets that soothe larger muscles.
Combination XL jets provide a broad, robust massage to relieve tension in large areas, and can be adjusted to provide a direct stream or rotating massage
ENERGY EFFICIENCY
All Hot Spring® spas offer Energy Smart® features, which help your spa deliver the best value over time.
LOCKS IN HEAT
Limelight® Collection spas feature FiberCor® insulation, which is provides 4 times denser than standard ½ lb. foam. Combined with other energy-efficient features, Limelight Collection spas lock in heat to reduce monthly energy costs. Limelight Collection spas offer the following Energy Smart®features:
Custom-designed spa covers offer an exclusive hinge seal to lock in heat
SmartJet® system lets you direct power only to the jet groups you want to use
EASY WATER CARE
Limelight® Collection models offer easy-to-use water care systems that help you spend less time maintaining your spa and more time enjoying it.
FRESHWATER™ SALT SYSTEM
This easy-to-use system eliminates the worry of keeping water clean, clear and sanitized for a full year. With just a little salt in your spa water, the system generates chlorine automatically and keeps water feeling soft without harsh chemical odor. This unique system makes spa ownership easier than ever by removing the guesswork and hassle of water care maintenance. Learn More.
FRESHWATER® OZONE SYSTEM
Keep your water clean and clear, while reducing the need for chlorine. This system combines the cleaning power of the FreshWater® III high-output ozone generator with MPS non-chlorine oxidizer and silver ions for protection against contaminants. Learn More.
THE ABSOLUTE BEST HOT TUB OWNERSHIP EXPERIENCE®
No matter which model you select, you can count on superior quality, comprehensive warranties and outstanding customer care from our experienced dealers.
COMMITTED TO OUR CUSTOMERS
Our dedication to high-quality construction and unparalleled customer care means you can enjoy your Hot Spring® spa for years to come. You can count on support from our network of experienced and professional retailers and our straightforward warranties to ensure your spa is always running at its best. We don't expect you to take our word for it though. We are proud to share the real experiences of our customer's right here on our website.
Read what Hot Spring owners have to say. Visit Ratings and Reviews >
THOUGHTFUL DESIGN
From the dramatic shell details to the brushed stainless-steel jet details and multiple points of light, your Limelight®Collection spa will surely turn heads. Make your personal retreat a stunning addition to your home or backyard.
Beautiful, yet durable, Everwood® siding in three colors
Uniquely sculpted shell interior
Elegant shell colors ranging from pearlescent to marble-like
Large, bold jets
An intricate foot well pattern
A sensor-driven logo light for at-a-glance diagnostics – you'll know when your spa is at the set temperature and when maintenance or service is required
Multiple points of colored lighting
Flair Jet System
The jet system offers an incredible 43 jets that relieve tension in targeted areas including your back, neck, shoulders and calves. 
These small, powerful jets are clustered to direct targeted streams to select muscle groups.
Flair Reviews
Love our spa
We've owned our Flair for 5 years with no issues. It's very comfortable, very efficient and easy to keep clean. We would highly recommend it.
Flair
My wife and I owned a Hot Springs Spa years ago and sadly left it with the house when we sold it. We enjoyed the spa then with all its features and reliability that 10 years later when we decided we could live no longer without a tub we looked … Read More
Our vacation at home
Best purchase ever! My husband & I have very stressful jobs so we unwind by relaxing in our Hot Spring Spa before bed.. Sitting in the spa melts away the stress of the day. My only regret is not purchasing one sooner !
Very nice hot tub
Has been very good and trouble-free. Easy to maintain water. Only maintenance in 4+ years was for a burned out light bulb.
I have owned 4 spas and this is the best ever
The jets are perfect for me as I teach and attend yoga class's often and the contour's of the bed side of the spa is incredibly comforting. The power jets are extremely hi-powered and great for sore knees and ankles. Overall it is a fantastic product, the best in spadom … Read More
Flair Specifications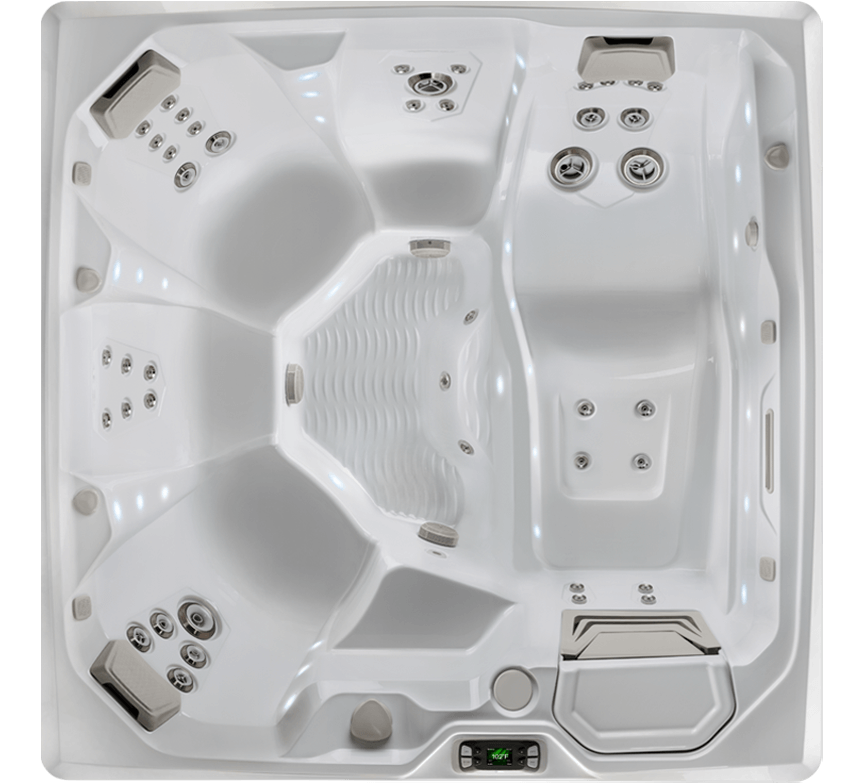 Seating Capacity

6 adults

Dimensions

7' x 7' x 36"
2.13m x 2.13m x 0.91m

Water Capacity

335 gallons/1,270 liters

Weight

875 lbs./400 kg dry;
4,720 lbs./2,140 kg filled*

Spa Shell Options

Alpine White, Ice Gray, Platinum, Tuscan Sun or Desert

Cabinet Options

Coastal Gray, Espresso or Sable

Jets - 43
(w/ Brushed Stainless Steel Trim)

1 XL Dual Rotary Jet 2 XL Single Rotary Jets 1 XL Directional Jet 6 Standard Dual Rotary Jets 2 Standard Directional Jets 31 Directional Precision Jets

Water Care System (Optional)

FreshWater™ Salt System
Water Feature

Vidro® backlit ribbon waterfall

Jet Pump 1

Wavemaster® 8200
Two-Speed
2.0 HP, continuous duty
4.0 HP, breakdown torque

Jet Pump 2

Wavemaster® 8000
One-Speed
2.0 HP, continuous duty
4.0 HP, breakdown torque

Circulation Pump

SilentFlo 5000® for quiet, continuous filtration

Effective Filtration Area

100 sq. ft., top-loading filters

Control System

IQ 2020® with LCD control panel
230v/50amp, 60Hz
Includes G.F.C.I. protected sub-panel

Lighting System

Raio® multi-color interior points of light (32)
Exterior multi-color lighting with timer

Heater

No-Fault®, 4,000w/230v

Energy Efficiency

FiberCor® insulation; Certified to the APSP 14 National Standard and the California Energy Commission (CEC) in accordance with California law

Vinyl Cover

3.5" to 2.5" tapered, 2 lb. density foam core, with hinge seal in Caramel, Chestnut or Slate

Cover Lifter (Optional)

CoverCradle®, CoverCradle II, Lift 'n Glide® or UpRite®

Steps (Optional)

Everwood® or Polymer

Entertainment System (Optional)

Wireless Entertainment

Hot Tub Cooling System (Optional)

CoolZone™
Notes
*Includes water and 6 adults weighing 175 lbs. each
Export models available in 240v, 50Hz, 1500w heater
X
DesignStudio Bug Report
Hello! please let us know if you found a bug so we can fix this ASAP