Jetsetter® LX 3 Person Hot Tub
---
Design Your Hot Tub
Colors

Walnut

Shell

Alpine White

Ivory

Ice Gray

Tuscan Sun

Desert

Bronze

Shell

Alpine White

Ivory

Tuscan Sun

Desert

Sandstone

Shell

Alpine White

Ivory

Tuscan Sun

Desert

Driftwood

Shell

Alpine White

Ice Gray

Platinum

Tuscan Sun

Brushed Nickel

Shell

Alpine White

Ice Gray

Shale

Shell

Alpine White

Ice Gray

Platinum
---
EXPLORE HIGHLIFE
OUR JET PHILOSOPHY
We design spas based on how you will actually use them. The ComfortControl® system lets you customize the strength of massage. The SmartJet® system allows you to direct power to the jets you are using, instead of powering all the jets at once.
THE PERFECT MASSAGE
Highlife® Collection spas feature up to 7 different jets, offering different types of massage for various parts of the body:
Every Highlife Collection spa features the Moto-Massage® DX jet that provides two powerful streams of water that sweep up and down the length of your back – there is nothing else like it
Precision® jets work together in a powerful cluster to relieve tension in your back, neck and calves
Directional Hydromassage jets provide targeted relief to problem areas with easy-to-adjust nozzles
ENERGY EFFICIENCY
Highlife® Collection spas offer our very best in efficiency and energy saving design – which is why we call these models Super Energy Efficient. This is just one of the ways a Highlife Collection spa delivers the best value over time.
SAVING YOU MONEY
Highlife Collection models feature our complete Energy Smart® system. Every aspect of the spa has been optimized to create heat efficiently and maximize heat retention.
Totally insulated with multiple layers of foam to lock in heat
SilentFlo 5000® circulation pump that uses less energy than a 40 watt light bulb
Custom-designed spa covers with an exclusive hinge seal to lock in heat
Our No-Fault® heater that maximizes heat transfer and is covered by an unconditional 5-year warranty
A pump shroud captures heat from the equipment compartment and transfers it to the water
SmartJet® system lets you direct power only to the jet groups you want to use
CLEANER SPA WATER
Crystal clear spa water is essential to your soaking experience, which is why we have invested in innovations in filtration and water care that keep your Highlife Collection spa water clean with as little work as possible.
FRESHWATER™ SALT SYSTEM
This easy-to-use system eliminates the worry of keeping water clean, clear and sanitized for a full year. With just a little salt in your spa water, the system generates chlorine automatically and keeps water feeling soft without harsh chemical odor. This unique system makes spa ownership easier than ever by removing the guesswork and hassle of water care maintenance. Learn More.
INDUSTRY LEADING FILTRATION
Only Highlife Collection hot tubs offer 100% No Bypass Filtration, and up to 325 square feet of effective filtration area with exclusive, dishwasher-safe Tri-X® filters. The number of filters is matched to the power of the jet pumps to provide balanced filtration, allowing 100% of your spa water to pass through the filters 100% of the time – even when the jets are on, which is when other spas bypass the filters.
THE ABSOLUTE BEST HOT TUB OWNERSHIP EXPERIENCE®
No matter which model you select, you can count on superior quality, comprehensive warranties and outstanding customer care from our experienced dealers.
COMMITTED TO OUR CUSTOMERS
Our dedication to high-quality construction and unparalleled customer care means you can enjoy your Hot Spring® spa for years to come. You can count on support from our network of experienced and professional retailers and our straightforward warranties to ensure your spa is always running at its best. We don't expect you to take our word for it though. We are proud to share the real experiences of our customer's right here on our website.
Read reviews from Hot Spring owners and learn about the Absolute Best Hot Tub Ownership Experience.
INNOVATIVE DESIGN
The Highlife Collection is our top-tier luxury spa line offering unmatched visual appeal and innovative technology.
Walnut and Driftwood cabinets feature a subtle grain pattern
Brushed Nickel and Bronze finishes give a unique metallic effect
Sandstone and Shale cabinets have stone-like texture
Elegant, complementary shell colors selected by design experts
Comfortable, sculpted seating and stylish details throughout
Wireless, waterproof remote control for ease of use from any seat
Customizable zone lighting to create the perfect ambiance inside or outside the spa
Jetsetter LX Jet System
The Jetsetter LX Jet System offers an incredible 22 jets that relieve tension in targeted areas including your back, neck, shoulders and calves.
Hot Spring Spas revolutionized spa industry with this one-of-a-kind moving jet that cascades up and down your back.

These four precision jets work in harmony to melt away tension in your neck and shoulders.

Soothe sore and stiff lower backs with the powerful, targeted JetStream jet that's two times as powerful as a standard hydromassage jet.

For maximum tension relief, HydroStream jets provide a constant powerful flow of water.

For maximum tension relief, Hydromassage jets provide a constant powerful flow of water.

These small, powerful jets are clustered to direct targeted streams to select muscle groups.
Jetsetter LX Reviews
Very Happy Owner
This spa is a big upgrade from our previous one. It is well built and very easy to maintain. The wireless remote is also a great feature to check the spa status. All of the components appear to be built to last in the outside environment. I highly recommend Hot … Read More
Jetsetter Salt Accessory
We decided on the Jettsetter because of the added therapy jets and the water conditioning with salt. It seemed like a lot of money at the time. We had a spa before this one. The difference between this one and our old one is like day and night. This is … Read More
Great Spa!
We have never owned a hot tub before- the Highlife FreshWater Salt water system makes it easy for "newbies" to operate. We have enjoyed our hot tub more than we thought we would. It has been one of our most enjoyable purchases. The service before and after our purchase has … Read More
Very Happy
The Jetsetter is my second Hot Springs Spa. It fits my needs very well. Great positions great jet placement.
Easiest to Manage for a More Relaxing Experience
Had a 1993 Tiger River Khyber for 25 years. It was night and day compared to newer redesigned Hot Springs tubs of today. Freshwater Salt System is quick and accurate allowing more quality time for things that matter especially during Covid-19 times. Everyone ought to own one!
Jetsetter® LX Specifications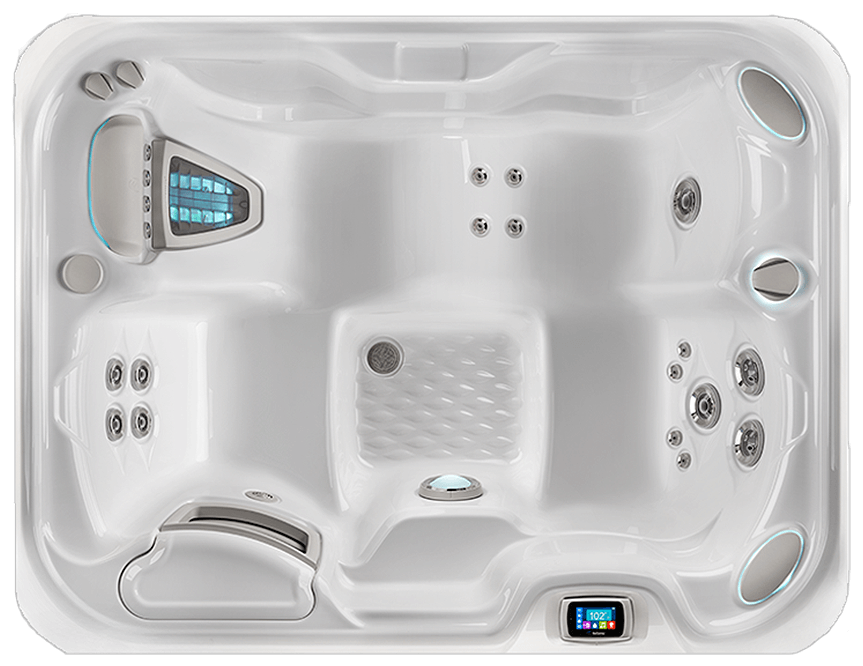 Seating Capacity

3 Adults

Dimensions

7' x 5'5" x 33"
2.13m x 1.65m x .84m

Water Capacity

210 gallons/800 liters

Weight

480 lbs./220kg dry
2,755 lbs./1,250 kg filled*

Jets (22)
(w/ Stainless Steel Trim)

1 Moto-Massage® DX jet (2)
1 JetStream® jet
2 Rotary Hydromassage jets
1 Directional Hydromassage jet
4 HydroStream® jets
12 Directional Precision® jets

Water Care System (Optional)

FreshWater™ Salt System
Jet Pump

Wavemaster® 9000
One-speed
2.5 HP Continuous Duty
5.2 HP Breakdown Torque

Circulation Pump

SilentFlo 5000® for quiet continuous filtration

Effective Filtration Area

195 sq. ft., top loading Tri-X® filters; 100% no-bypass filtration

Control System

IQ 2020® with wireless remote control
230v/50amp, 60Hz
Includes G.F.C.I. protected sub-panel

Lighting System

Luminescence® multi-color four-zone

Heater

No-Fault®, 6000w/230v

Energy Efficiency

Certified to the APSP 14 National Standard and the California Energy Commission (CEC) in accordance with California law

Vinyl Cover

3.5" to 2.5" tapered
2 lb. density foam core with hinge seal in Chocolate or Slate

Cover Lifter (Optional)

CoverCradle®, CoverCradle II®, Lift 'n Glide®, UpRite®

Entertainment System (Optional)

Wireless Sound System
Notes
*Includes water and 3 adults weighing 175 lbs. each
Export models available in 230v, 50Hz, 1500w Heater
X
DesignStudio Bug Report
Hello! please let us know if you found a bug so we can fix this ASAP