With its unique shape, the TX provides comfort for two and fits in spaces other spas don't. Our patented Moto-Massage® jet and adjustable precision jets recharge and invigorate you.
EXPLORE TX
Beautify Your Space
Designed to delight the senses, each spa features eye-catching finishes, dramatic LED lighting, sleek metallic corners, and distinctive design details. Subtly embossed cabinets evoke the beauty of natural materials with the durability of advanced composites. Choose from a soothing color palate that follows current design trends and complements your indoor and outdoor space.
A large bartop, contoured seating, and integrated pillows complement the overall design for a unique and on-trend look.
Complete Hydrotherapy Experience
Every aspect of your spa is precision engineered to deliver the ultimate massage experience. Ergonomically designed shells are shaped to fit the body's contours and position you to make the most of our legendary Hot Spring hydromassage systems.
You'll emerge energized and inspired – ready to be your best.
Easy Water Care
Hot Spot® Collection spas come ready for the FROG® @ease® in-line sanitizing system.* Pre-filled cartridges with SmartChlor® technology and minerals self-regulate to keep water crystal clear with less effort. @ease creates softer feeling water that's virtually free of chemical odors since the system works with up to 75% less chlorine.*
*Available in the U.S. only; bromine is available in Canada.
Money-Saving Efficiency
Use your spa every day with features that work together as part of the Energy Smart® system to keep energy costs down. FiberCor® insulation completely fills the spa cabinet with insulation that's four times more dense than standard half-pound foam. Custom-designed, insulating spa covers provide a tight seal to lock in heat. And our patented No-Fault® heater maximizes heat transfer to the water. Your spa will be there for you, hot and ready with money-saving efficiency.
The Absolute Best Hot Tub Ownership Experience®
Hot Spring spas are consistently recognized for outstanding quality and value. Dedication and experience add up to unsurpassed quality and reliability for you and your family. Make your spa part of your daily wellness routine, you can count on it to be hot and ready when you are, for years to come.
For more that 40 years, we built our reputation on quality, but you don't have to take our word for it. Read for yourself what our real Hot Spring Spas owners are saying about their experience. Read Reviews
TX Jet System
The TX Jet System offers an incredible 10 jets that relieve tension in targeted areas including your back, neck, shoulders and calves.
The patented Hot Spring® Moto-Massage® moving jet produces a warm stream of water that sweeps up and down the length of your back for an unparalleled hydromassage experience. This revolutionary jet melts away stiffness and soreness, leaving you refreshed and revitalized.

Rotating streams of water create a pulsing sensation for a unique experience for those trouble spots.

These small, powerful jets are clustered to direct targeted streams to select muscle groups.
TX Reviews
I use it every day
There is nothing like getting up in the morning with a stiff, sore back and feeling that warm, pulsing water of the hot tub! In the length of time I drink a cup of coffee, I am feeling ready to face the day. Honestly, I've been doing this for about … Read More
Perfect for our Situation
We keep it on the deck off our bedroom. It is cozy but perfect for our needs. We use it 4-5 times a week after hard exercise. Very soothing.
Love my Spa!
At the end of a long day, there isn't a better way to relax than in my spa! Best nights sleep ever after a long soak in my spa!
Best hot tub value I found
I have had this hot tub for over a year now and have been very satisfied with in all areas. Very easy to maintain water control with routine maintenance and service.. This is my third hot tub and I wish I had bought this first it is that good which … Read More
TX Specifications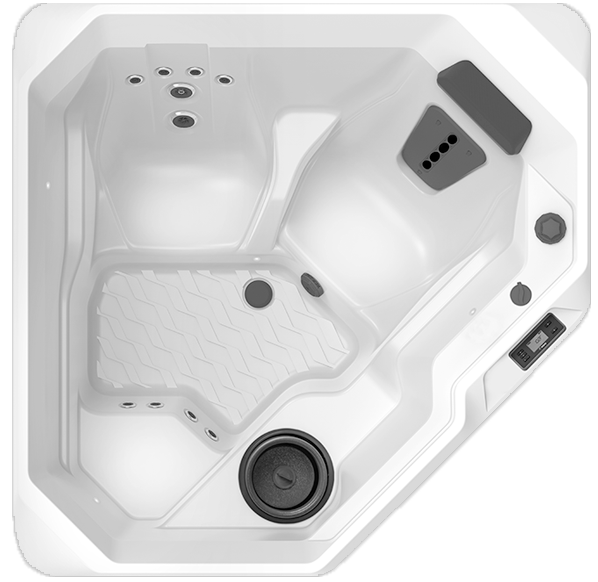 Seating Capacity

2 adults

Dimensions

6' x 6' x 29"
1.83 m x 1.83 m x 0.74 m

Water Capacity

190 gallons / 720 liters

Weight

635 lbs. / 290 kg dry
2,570 lbs. / 1,165 kg filled*
Spa Shell Options

Alpine White
Pearl
Pebble
Tuscan Sun

Cabinet Options

Almond
Havana
Storm

Jet Count

11

Hot Tub Jets

1 Moto-Massage® jet
1 Directional Hydromassage jet
1 Rotary Hydromassage jet
8 Directional Precision® jets

Lighting System (interior)

4 mulit-color LED points of light, dimmable


Control System

IQ 2020®
115V/15amp**60Hz
(Includes G.F.C.I. protected power cord)
or 115V/30amp*** or 220V/50amp***, 60Hz

Heater

No-Fault® 1000w/115V or 4,000 W/230V

Energy Efficiency

FiberCor® Insulation; Certified to California Energy Commission (CEC) and APSP 14 energy efficiency standards for portable spas

Jet Pump 1

Wavemaster® 4200
Two-speed
1.0 HP Continuous Duty
1.7 HP Breakdown Torque

Circulation Pump (Optional)

SilentFlo 5000®

Floor Drain

Included

Water Care System

FROG® In-Line Cartridge Ready

Ozone System (Optional)

FreshWater® III Corona Discharge

Effective Filtration Area

30 sq. ft., top loading

Vinyl Cover

3.5" to 2.5" tapered,
1.5 lb. density foam core

Vinyl Cover Colors

Nutmeg
Stone

Cover Lifter (Optional)

CoverCradle® or CoverCradle® II

Steps (Optional)

Everwood® - Almond, Havana, and Storm
Polymer - Ash
Notes
* Includes water and 2 adults weighing 175 lbs. each.
** Requires a dedicated circuit supplied to the unit at all times. Electrical requirements will vary outside the U.S.
*** G.F.C.I. protected sub-panel required in 30amp conversion or 220V mode.
Export models available in 230V, 50Hz, 1000W heater.
X
DesignStudio Bug Report
Hello! please let us know if you found a bug so we can fix this ASAP