You'll find your perfect seat in the versatile Relay. There's plenty of room for a group, or stretch out for a solo soak and enjoy soothing massage from neck to toe.
EXPLORE RELAY
Beautify Your Space
Designed to delight the senses, each spa features eye-catching finishes, dramatic LED lighting, sleek metallic corners, and distinctive design details. Subtly embossed cabinets evoke the beauty of natural materials with the durability of advanced composites. Choose from a soothing color palate that follows current design trends and complements your indoor and outdoor space.
A large bartop, contoured seating, and integrated pillows complement the overall design for a unique and on-trend look.
Complete Hydrotherapy Experience
Every aspect of your spa is precision engineered to deliver the ultimate massage experience. Ergonomically designed shells are shaped to fit the body's contours and position you to make the most of our legendary Hot Spring hydromassage systems.
You'll emerge energized and inspired – ready to be your best.
Easy Water Care
Hot Spot® Collection spas come ready for the FROG® @ease® in-line sanitizing system.* Pre-filled cartridges with SmartChlor® technology and minerals self-regulate to keep water crystal clear with less effort. @ease creates softer feeling water that's virtually free of chemical odors since the system works with up to 75% less chlorine.*
*Available in the U.S. only; bromine is available in Canada.
Money-Saving Efficiency
Use your spa every day with features that work together as part of the Energy Smart® system to keep energy costs down. FiberCor® insulation completely fills the spa cabinet with insulation that's four times more dense than standard half-pound foam. Custom-designed, insulating spa covers provide a tight seal to lock in heat. And our patented No-Fault® heater maximizes heat transfer to the water. Your spa will be there for you, hot and ready with money-saving efficiency.
The Absolute Best Hot Tub Ownership Experience®
Hot Spring spas are consistently recognized for outstanding quality and value. Dedication and experience add up to unsurpassed quality and reliability for you and your family. Make your spa part of your daily wellness routine, you can count on it to be hot and ready when you are, for years to come.
For more that 40 years, we built our reputation on quality, but you don't have to take our word for it. Read for yourself what our real Hot Spring Spas owners are saying about their experience. Read Reviews
Relay Jet System
The Relay provides a carefully designed system of jets to soothe and target muscle groups from your neck to your toes.
Customize your massage by rotating the jet face for your right level of comfort.

These small, powerful jets are clustered to direct targeted streams to select muscle groups.

Rotating streams of water create a pulsing sensation for a unique experience for those trouble spots.
Relay Reviews
Very Happy
We received our Relay in May of 2014 and have used it almost every day. We love it. It's usually just my wife, daughter, and I but sometimes my brother and his wife also join us for a soak. It's very comfortable with 3 adults. Once you have more than … Read More
Very relaxed
We purchased our hot tub in March. I love the relay, it is very roomy and perfect for an evening of relaxation. Easy to run and easy to care for. We highly recommend this hot tub. What did we do before we had it?? I can't even remember and never … Read More
Happy hot tubber
By far one of the best investments I have ever made. There is nothing like stepping in to my Hotspring spa at the end of a long day, it transforms my mood immediatly.
Nice spa
Cool nights in our hot tub are the best under the stars. There is a jet for every aching spot!
3 years in and we still love it
It's been at least 3 Years since my Wife and I Purchased our Relay spa and we love it just as much now, as we did when we first bought it. I'm actually writing this as I'm drying off after 30 minutes of total relaxation at 103 degrees. Most people … Read More
Relay Specifications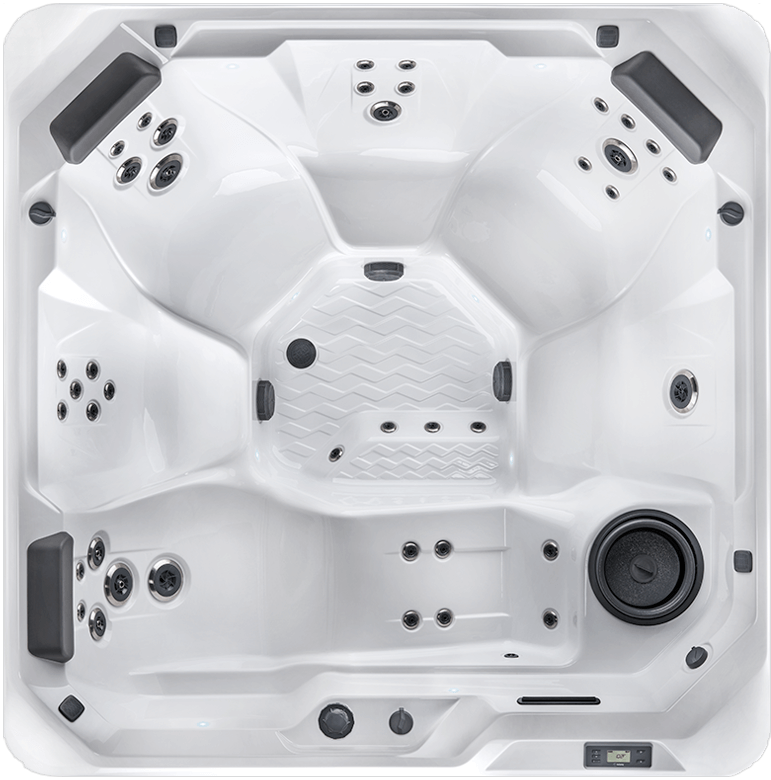 Seating Capacity

6 Adults

Dimensions

7' x 7' x 36"
2.13m x 2.13m x 0.92m

Water Capacity

340 gallons/1,290 liters

Weight

830 lbs./375 kg dry
4,715 lbs./ 2,140 kg filled*
Spa Shell Options

Alpine White
Pearl
Pebble
Tuscan Sun

Cabinet Options

Almond
Havana
Storm

Jet Count

40

Hot Tub Jets

3 XL Directional Hydromassage jets
2 XL Rotary Hydromassage jets
3 Directional Hydromassage jets
2 Rotary Hydromassage jets
30 Directional Precision® jets

Lighting System (interior)

10 multi-color LED points of light, dimmable

Lighting System (exterior)

4 multi-color LED points of light, dimmable

Water Features

Included

Control System

IQ 2020®
230v/50 amp, 60 Hz
Includes G.F.C.I. protected sub-panel

Heater

No-Fault® 4000w/230v

Energy Efficiency

FiberCor® Insulation; Certified to California Energy Commission (CEC) and APSP 14 energy efficiency standards for portable spas

Jet Pump 1

Wavemaster® 6200;
Two-speed,
1.5 HP Continuous Duty,
3.2 HP Breakdown Torque

Jet Pump 2

Wavemaster® 6000;
One-speed,
1.5 HP Continuous Duty,
3.2 HP Breakdown Torque

Water Care System

FROG® In-Line Cartridge Ready

Ozone System (Optional)

FreshWater® III Corona Discharge

Effective Filtration Area

65 sq. ft., top loading filters

Vinyl Cover

3.5" to 2.5" tapered 2 lb. density foam core Nutmeg or Stone

Entertainment (Optional)

Wireless Sound System

Cover Lifter (Optional)

CoverCradle®, CoverCradle II, or UpRite®

Steps (Optional)

Everwood® – Almond, Havana and Storm Polymer – Ash
Notes
* Includes water and 6 adults weighing 175 lbs. each.
Export models available in 240v, 50Hz, 2000w heater
X
DesignStudio Bug Report
Hello! please let us know if you found a bug so we can fix this ASAP